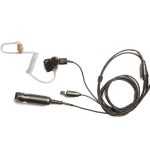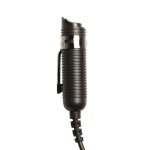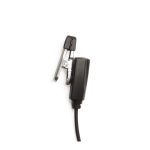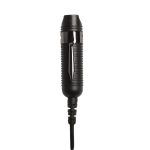 Three Wire – Barrel PTT
Connect Communications Three Wire X Series Earpiece Kit features a Barrel Push-To-Talk and has been designed and developed for lightweight communications and discrete surveillance. The 3 wire acoustic airtube has been produced with Connect Communications X Series quick disconnect airtube for maximum comfort and to ensure optimal hygiene. The industrial design and re-enforces mic cables ensure that the earpiece is exceptionally durable. The push-to-talk can be attached to the users lapel via the 360 rotating clothing clip. The Barrel PTT, Three Wire X Series airtube is also completely replaceable for optimal hygiene.
Features:
Barrel PTT kit with acoustic air tube.
Specifically designed X Series Twist Connect acoustic air tube.
Lightest in its class.
Industrial polyurethane jacket with mic cable for maximum strain relief.
Interchangeable airtubes for ultimate hygiene levels.
360 rotating clothing clip.
Designed to suit the following radios:
Motorola GP300, GP328 / GP328 plus / GP329 / GP338 / GP339 / MTX900 / MTX960.
Motorola MOTOTRBO DP3400/DP3401, DP3600/DP3601, DP4400/DP4401, DP4600/DP4601, DP4800/DP4801, SL420.
Motorola XTS3000 / XTS5000.
Motorola MTH500 / MTH600 / MTH800.
Entel HT783 / HT785 / HT983 ATEX Approved Intrinsically Safe.
Kirisun PT4200.
Heed HC620 / HC780.
Uniden GME.
Vertex VX-426.
HYT TC368 / TC700 / TC610.
Simoco SRP9130 / SRP9180.
Sepura STP8040 / STP8000 Series / STP 9000 Series.