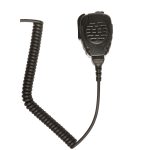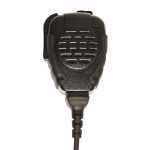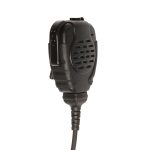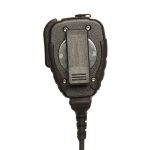 Heavy Duty Remote Speaker Mic – Water Resistant with Jack
The Heavy Duty and Water Resistant, Remote Speaker Mic has been developed and designed by Connect to withstand wet, high impact environments. It can sustain forces of high impact and its rubber sealed housing ensures ultimate product lifespan. The polyurethane jacketed mic cable ensures Speaker Mic has market leading durability and strain reliefwhile the rubber sealed polycarbonate housing has been developed to unsure the unit can sustain heavy-duty use. The Remote Speaker Mic also features a heavy-duty metal reinforced 360 degree rotating clip so it can be worn on the belt, shoulder epaulet or lapel. A large PTT button has been ergonomically developed so that it can be operated easily even with gloves. Produced with the highest quality electret condenser the microphone will transmit audio of superior clarity. Designed with a powerful speaker, the mic produces a clear and loud audio stream for even the noisiest environments. For additional privacy an optional earphone can be connected into the speaker mic via the jack.
Features:
Industrial, heavy-duty & water resistant design.
Rugged and capable of resisting high impact forces.
Reinforced cabling for market leading durability and strain relief.
Polycarbonate housing for ultimate product lifespan.
Large push-to-talk button designed to be used when wearing gloves.
High quality speaker for noisy environments.
Highest quality electret condenser for optimum transmit audio.
Metal reinforced 360 rotating heavy-duty clothing clip.
3.5mm headset jack for optional headset.
Designed to suit the following radios:
Motorola GP300, GP328 / GP328 plus / GP329 / GP338 / GP339 / MTX900 / MTX960.
Motorola MOTOTRBO DP3400/DP3401, DP3600/DP3601, DP4400/DP4401, DP4600/DP4601, DP4800/DP4801, SL420.
Motorola XTS3000 / XTS5000.
Motorola MTH500 / MTH600 / MTH800.
Entel HT783 / HT785 / HT983 ATEX Approved Intrinsically Safe.
Kirisun PT4200.
Heed HC620 / HC780.
Uniden GME.
Vertex VX-426.
HYT TC368 / TC700 / TC610.
Simoco SRP9130 / SRP9180.
Sepura STP8040 / STP8000 Series / STP 9000 Series.