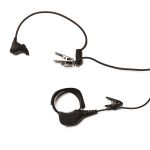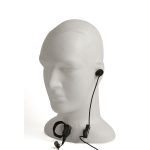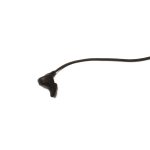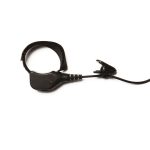 Ear Bone Mic
Connects Ear Bone Mic has been designed using the latest technology to pick-up the speech vibrations from the ear canal and transmit them with ultimate clarity. Mechanically designed, the Bone Conduction Mic produces audio through vibrations so the user does not have to speak directly into the mic to transmit audio. The Ear Bone Mic is also effective in enhancing two way communications through reducing the levels of ambient noise in the surrounding environment. This method is far more effective when compared to the standard push-to-talk as the mic is located in the users ear canal rather than directly in front of the users mouth.
Features:
Industrially designed Ear Bone mic.
Produces pure audio by transmitting ear canal vibrations.
Acoustic & hygienic airtube, produced from heavy-duty surgical tubing.
Unparalleled audio quality.
VOX option available.
Perfect for covert and tactical response.
Reinforced cabling for market leading durability and strain relief.
Designed to suit the following radios:
Motorola GP300, GP328 / GP328 plus / GP329 / GP338 / GP339 / MTX900 / MTX960.
Motorola MOTOTRBO DP3400/DP3401, DP3600/DP3601, DP4400/DP4401, DP4600/DP4601, DP4800/DP4801, SL420.
Motorola XTS3000 / XTS5000.
Motorola MTH500 / MTH600 / MTH800.
Entel HT783 / HT785 / HT983 ATEX Approved Intrinsically Safe.
Kirisun PT4200.
Heed HC620 / HC780.
Uniden GME.
Vertex VX-426.
HYT TC368 / TC700 / TC610.
Simoco SRP9130 / SRP9180.
Sepura STP8040 / STP8000 Series / STP 9000 Series.